Greetings, Alberton School families! We are excited to announce that next week, Missoula Children's Theater will be joining our elementary school students (ages 5+, and through 6th grade) for a production of The Emperor's New Clothes! Students will audition on Monday, March 14th during school. Auditions will be open for grades K-6. Students must commit to rehearsals for the remainder of the week, which are all held during school hours, with the exception of Friday the 18th. That Friday, students will need to be transported to the school by 2:00 PM and stay through their performance, which will take place at 6:30 PM (doors open at 6:00). Full details will come home with your child after auditions on Monday. Donations only and FREE to watch!
This is a friendly reminder that the newly formed Alberton Booster Club will be holding their first meeting tonight at 7pm in the school cafeteria. This meeting is open to any members of the community who are interested in helping grow the Booster Club and help the school athletics and clubs thrive. We hope to see you there!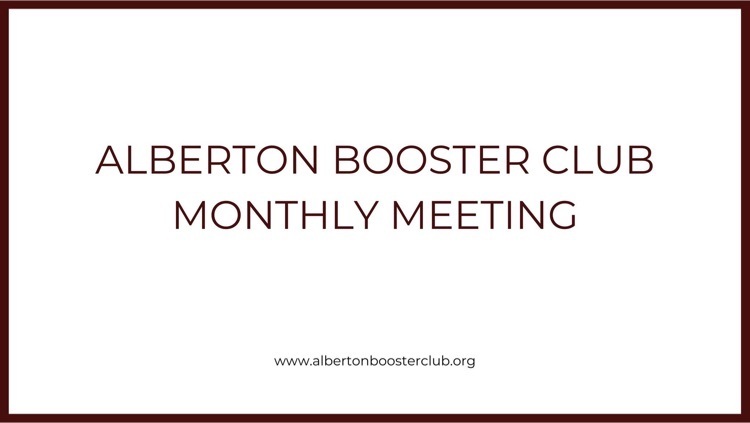 On International Women's Day, we are honored to give a BIG congratulations to Alberton's Battle of the Books team on taking second place in today's state competition! We are so proud of you! Well done, ladies!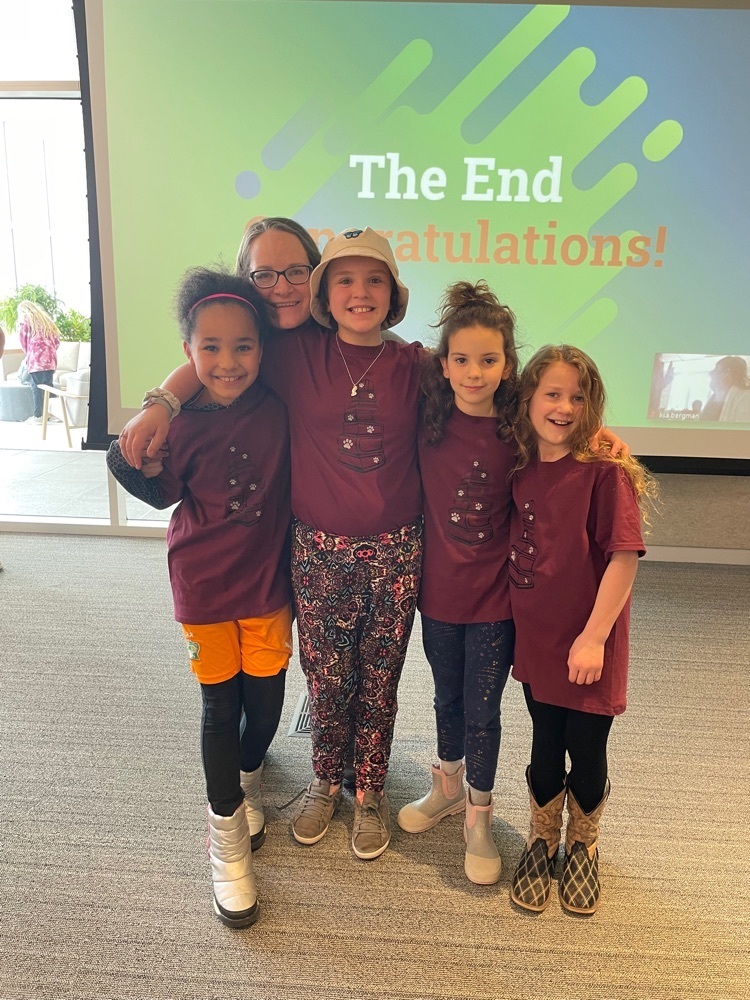 Greetings, Alberton School families. We would like to remind you that our regularly scheduled school board meeting is tonight, Tuesday, March 8th at 7pm in the school cafeteria. All Alberton families and residents are invited to join us so that they can be as informed as possibly on the happenings within our school. We hope to see you there!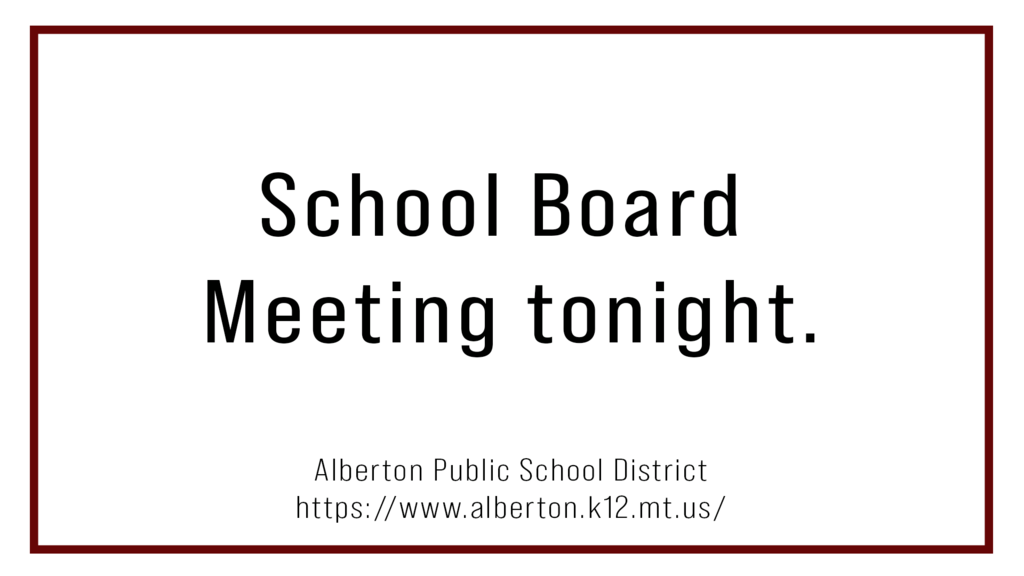 We are thrilled to announce that Alberton is sending an awesome 3rd & 4th grade team of kiddos to the State Battle of the Books competition tomorrow, Tuesday, March 8th at the Missoula Public Library at 1:00 p.m. In-person spectators are allowed, but you can also view and support the kids via Zoom! All the information to watch online is below. We are so excited to cheer them on! Topic: 3rd/4th Grade MTBoB Competition Time: Mar 8, 2022 01:00 PM Mountain Time (US and Canada) Join Zoom Meeting
https://us06web.zoom.us/j/87567821030?pwd=UDljazN6QWZUUmM1ZllLS2wxblpPZz09
Meeting ID: 875 6782 1030 Passcode: BOB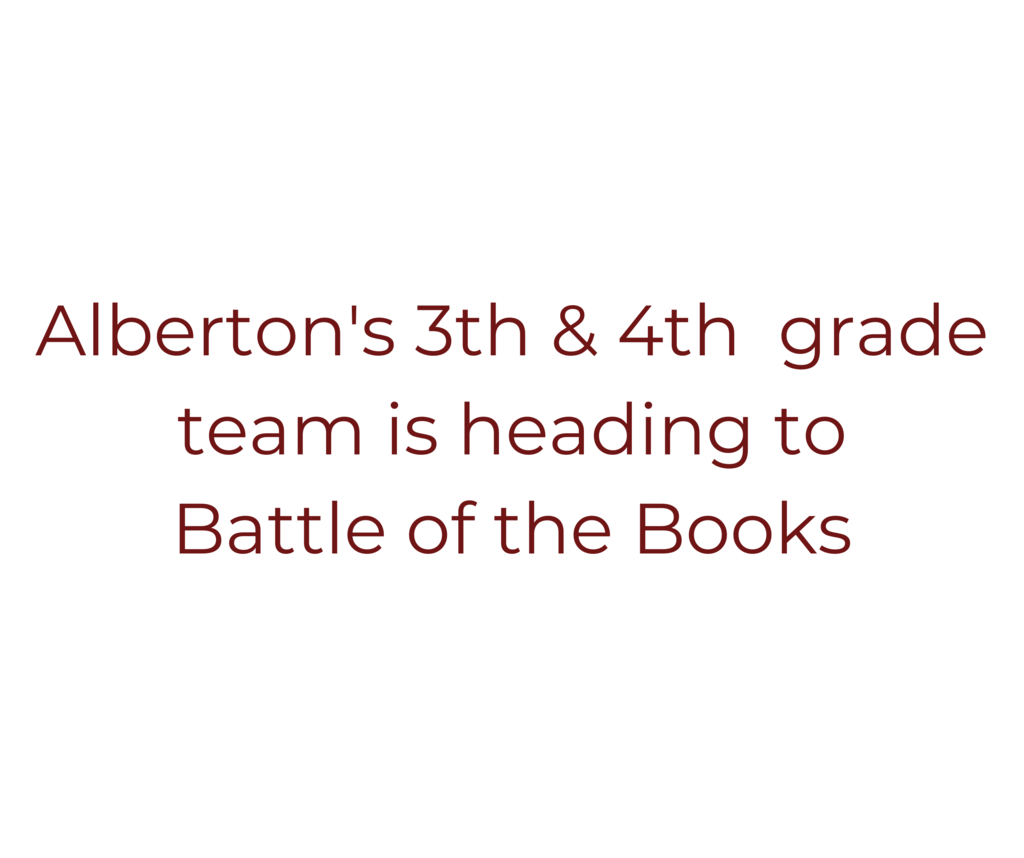 Attention, Alberton High School girls! Tomorrow, Saturday, March 5th from 11am-3pm, the Popup Dress Shop will have their store setup at the Alberton Community Church located at 421 Railroad Avenue. The shop will feature high-end dresses in sizes 00-20, all in the price range of $25-$100! No two dresses are the same, and they are all in like-new condition. No appointment is necessary, and they accept cash, Venmo, and PayPal. As a reminder, the prom is Saturday, March 26th!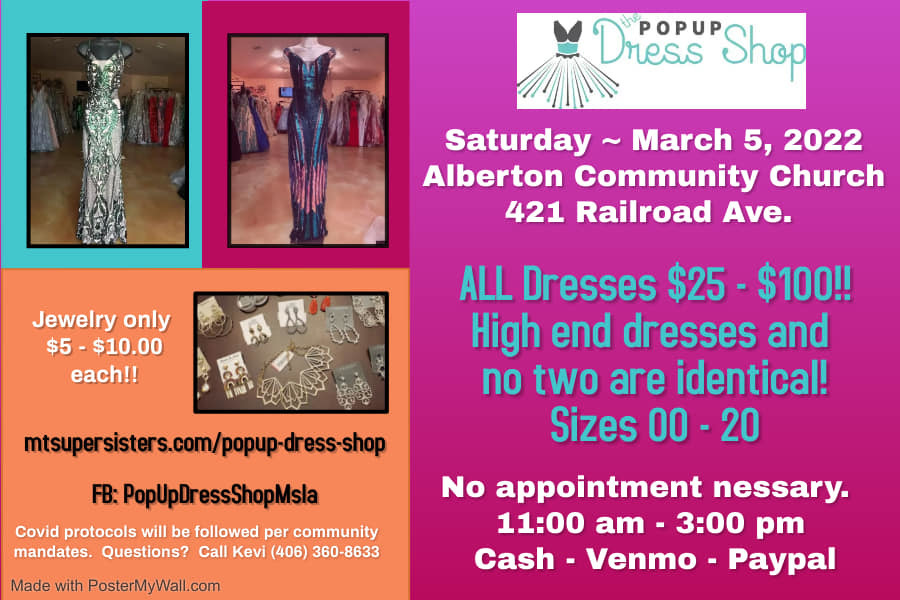 Attention, Local Motion dance crew families! We will not be holding classes this week (Thursday, 3/3) or next week (Thursday, 3/10). All classes will excitedly return on Thursday, March 17th! Until then, be sure to dance everywhere you go!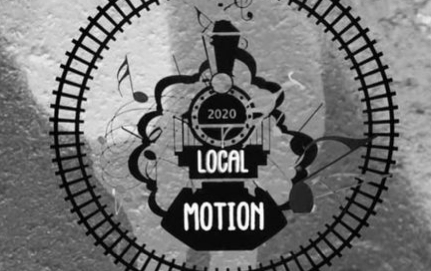 Hello, Alberton families! We have two reminders for you regarding tomorrow, Wednesday, March 2nd: First, Child Find, a community-wide child screening is coming to Alberton tomorrow from 9:30-11am. This is open to ALL children ages 0-5 and is a FREE and great way to learn about your child's language, hearing, learning, and motor development. Give the school a call at 406-722-4413 to schedule an appointment! Second, tomorrow is an early out day. The school day will end at 3:10pm and school busses will run their regular routes, with drop-offs being approximately 30 minutes earlier than usual. If you have any questions, give the office a call during regular school hours. Thank you, and have a wonderful day!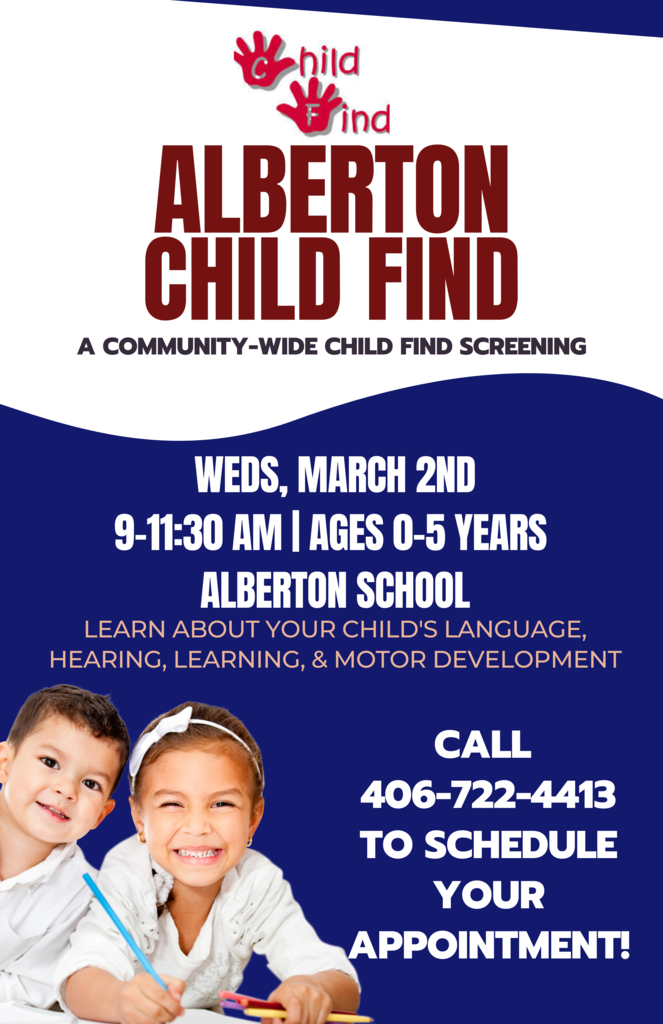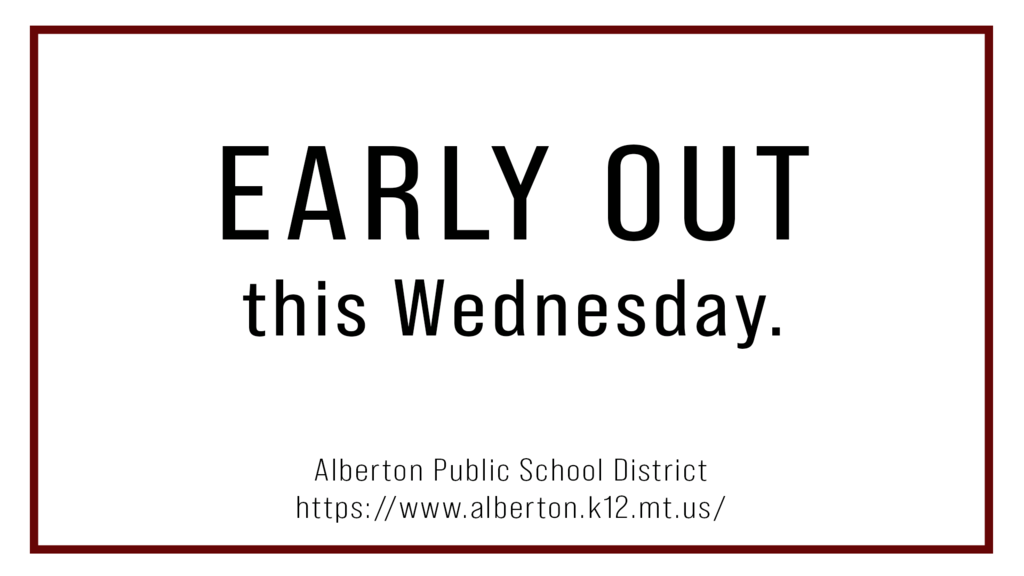 Hello Middle and High School Students + Parents/Guardians! The Alberton Drama Club's informational meeting for our upcoming April 1st performance is TONIGHT, Monday, February 28th at 3:55pm in the school cafeteria. If you are not interested in performing but still want to be a part of the show, we have lots of opportunities for you! If you are merely curious, but not fully sure, we encourage to join us and learn all about it! If you can't make it to the meeting, please send Reid a message at the email listed below. If you are interested, please fill out this quick questionnaire:
https://forms.gle/SkL2mBRajBPcYfrNA
After our meeting, if you choose to perform in the show you will need to fully commit to rehearsals (Mon-Thurs 3:45 to 5:30 - not everyone will be needed at all rehearsals) and the performance (Friday, April 1, from 5:30-8:30). There will also be some work on your own time to write parts of the script and memorize your lines. We will do our best to respect your time as much as possible! If you have any questions, feel free to email me! Reid Reimers Director- Alberton Drama Club
reid.reimers@gmail.com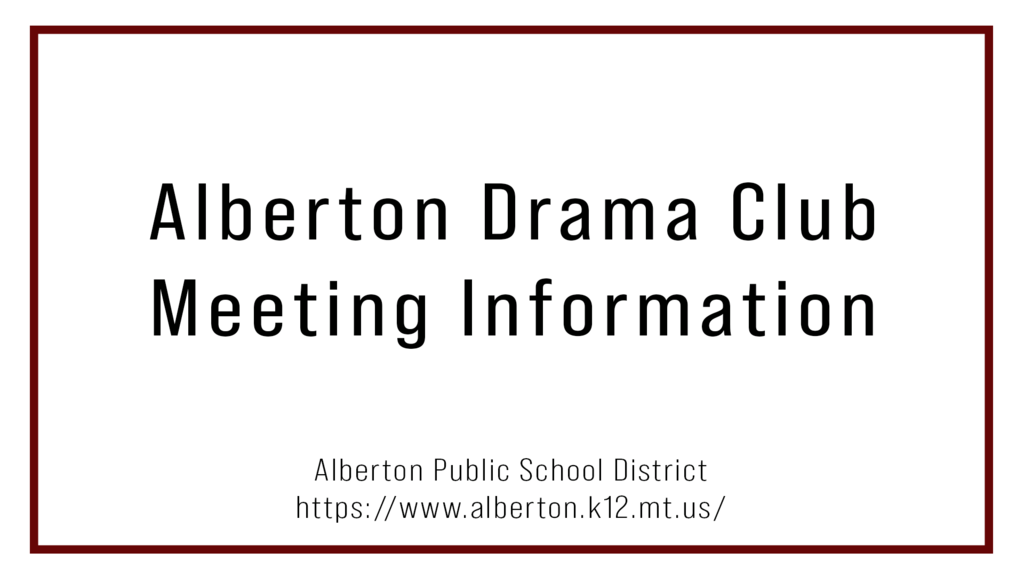 Due to the weather-related travel restrictions for some of our students, this afternoon's regularly-scheduled district-wide Battle of the Books competition has been postponed until tomorrow, Tuesday, March 1st at 9am in the school library.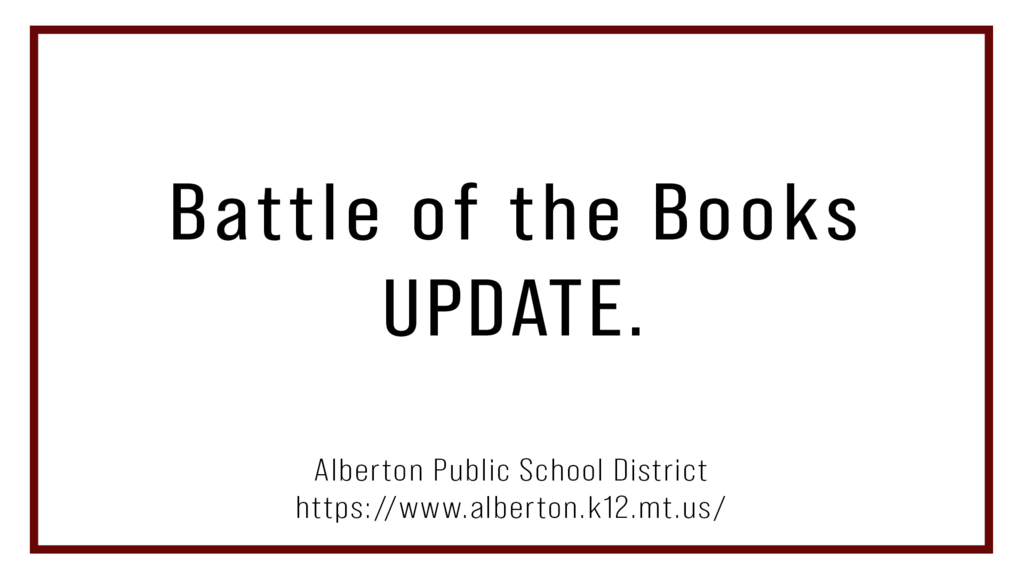 Due to the extremely icy road conditions, our school busses are unable to run today. We will be opening at 10:00am for any students who can safely travel to the school. Any students who cannot safely arrive will have their absence excused. All junior high and high school students are encouraged to sign into their Google classrooms for any assignment information their teachers have posted. Busses will not run at all today, including at the end of the school day. We thank you for your cooperation and understanding as we work to ensure the safety of all of our students, families, and staff.
Good morning, Alberton families. Due to icy road conditions, school today, Monday, February 28th, will be delayed for two hours for all students. School will begin at 10:00am for all students and staff. Thank you, and stay safe.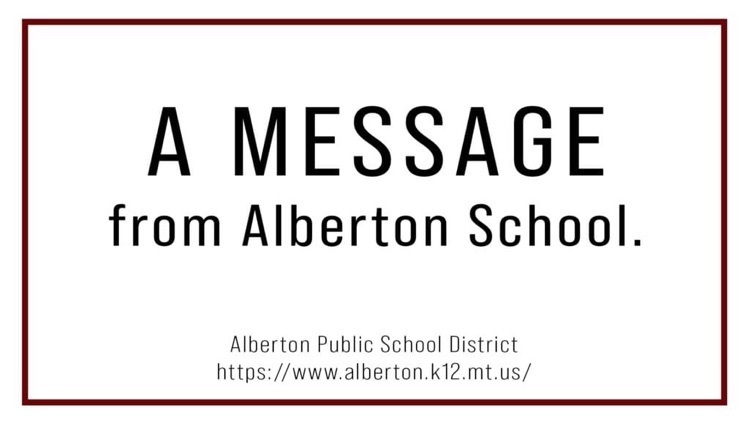 Hello Alberton Community! We have two cancellations to announce: First, the Girls' Junior High Basketball team's final game against Lincoln has been cancelled due to illnesses. We are incredibly proud of these athletes and are so excited to see what the future of Panthers sports looks like. Thank you so much for an amazing season. Second, tonight's Local Motion dance classes are cancelled due to a scheduling conflict for our instructors. Classes will resume again next Thursday! Thank you so much.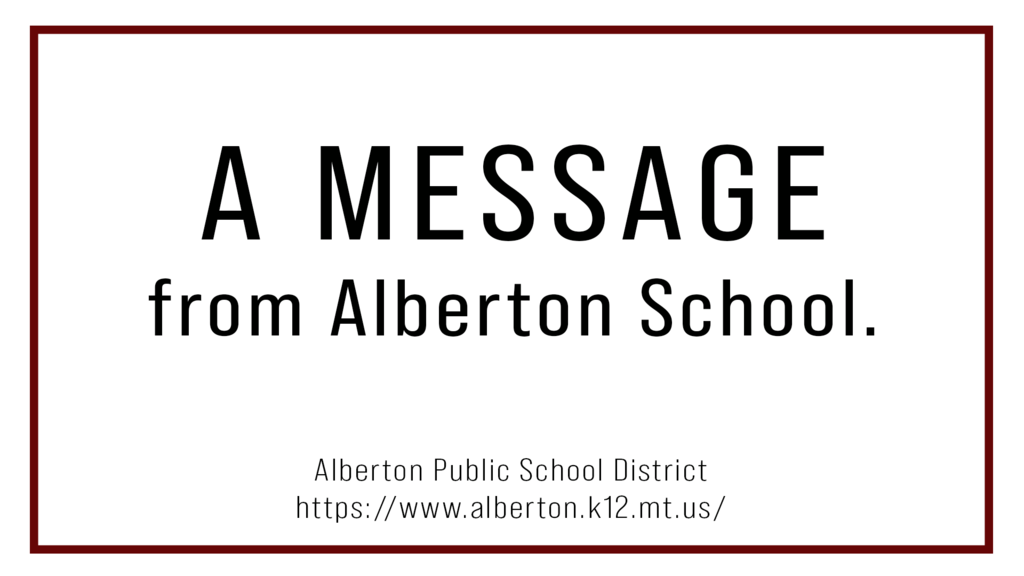 Join us tomorrow, Thursday, February 24th at 4:30 as the Junior High Girls' Basketball team takes on Lincoln for their final game of the season! Come cheer these incredible athletes on! GO PANTHERS!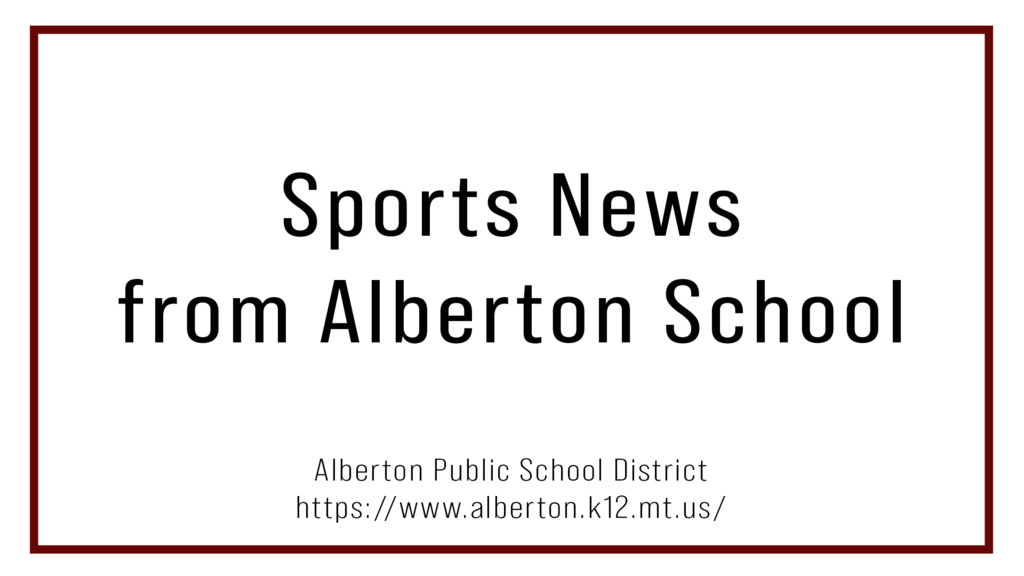 This is a friendly reminder that our school spelling bee is today, Wednesday, 2/23 at 10am in the school gym! Come down and cheer these amazing kids on!
Hello Alberton Families, it appears the flu is working its way through Mineral County. We had several students and staff out this past week at Alberton School. We continue to ask for your help in promoting healthy schools for our students and staff by keeping kids at home when they are not feeling well. Thank you.
I Love to Read Month wraps up this week with activities and spirit! Check out our Facebook page + website for full details on Reading Spirit Week themes!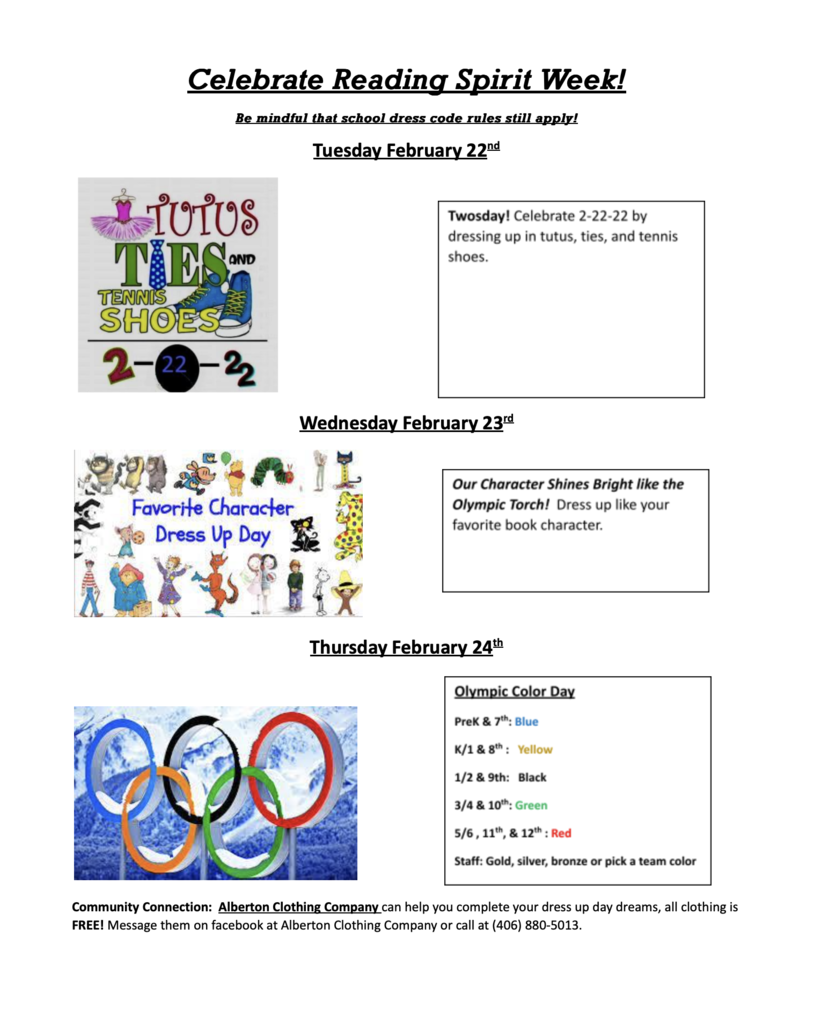 Book BINGO is back! Join the PEAK Foundation Friday, February 25th from 5-7pm for a chance to win some of the most popular books around! BPA will be holding a Taco Feed Fundraiser from 5-6pm at $7 per plate! Volunteers needed for unload & set up! Check out our website or Facebook page for full details!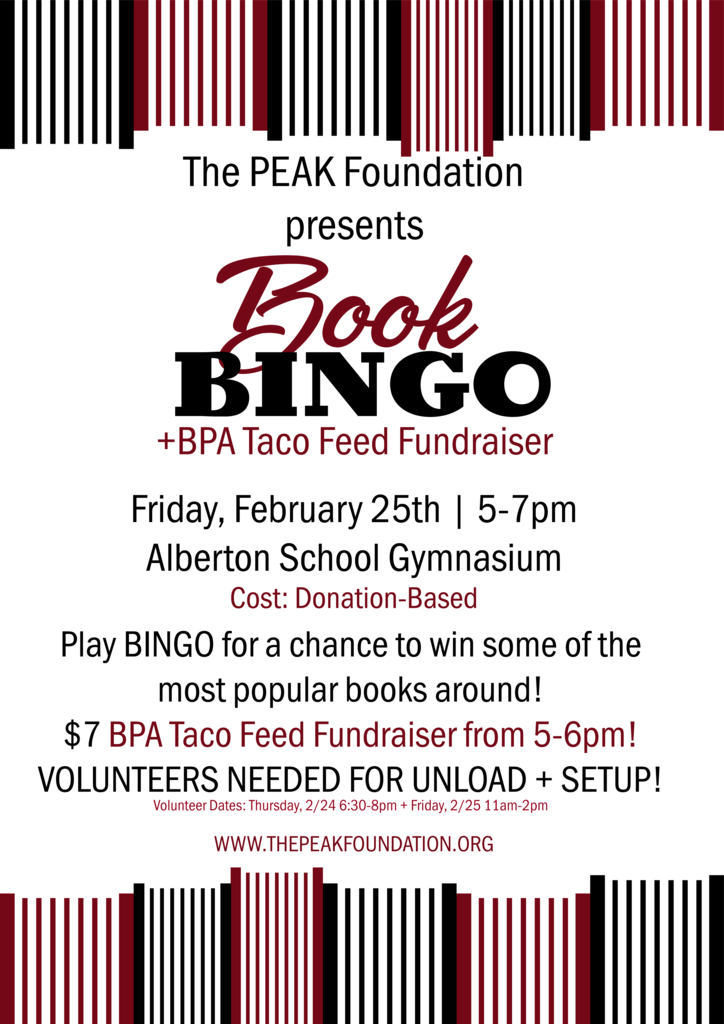 Local Motion's FREE Hip Hop classes are on for tonight! 4:30-5:15- ages 3-7. 5:15-6pm- ages 8-12. Classes in the Alberton School Wellness Center located in elementary school!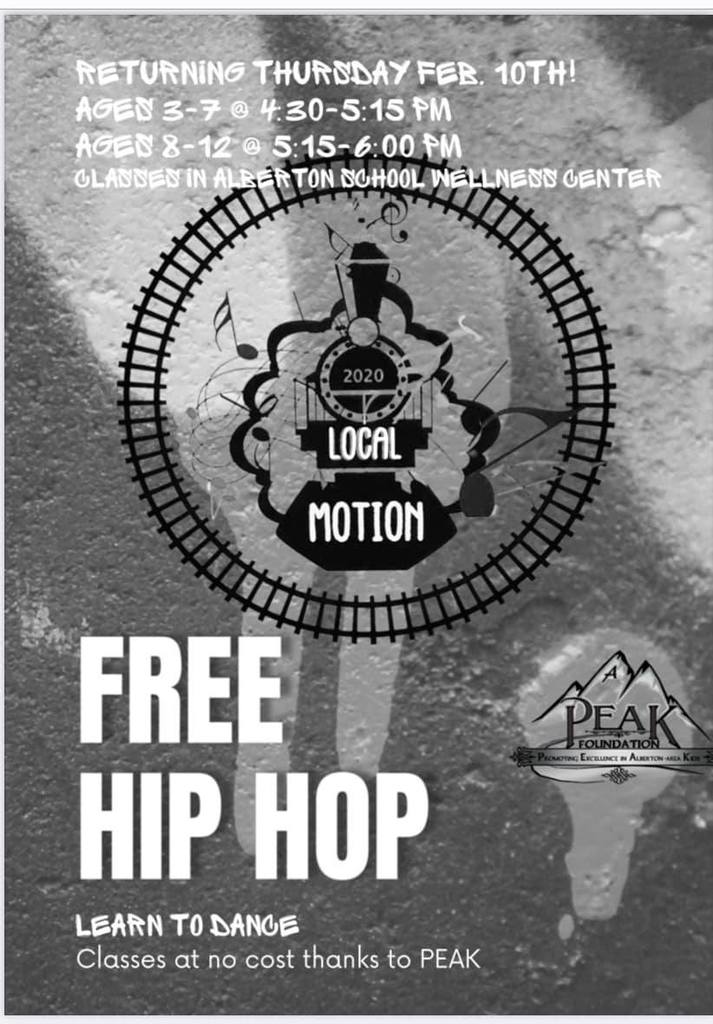 Alberton School would like to remind parents + guardians that today, Wednesday, February 16th is an early release day. School will be done at 3:10pm with busses running regular routes thirty minutes early. We would also like to invite all community members to join us this evening at 6pm in the cafeteria for an Alberton Panthers Athletics Informational and Planning Meeting. Thank you all, and have a wonderful day!